February 14, 2004: Well, the Nikita DVD for Season One is out and it's awesome. If you don't have it yet, go to your local Best Buy or anywhere else they have DVD's and buy it now! Or go to AMAZON.COM
MAY 25, 2002: SAD NEWS:) IT LOOKS AS IF CODENAME JOSEPHINE THE SITE IS EITHER GOING TO DISAPPEAR OR BE SERIOUSLY PARED DOWN DEPENDING ON HOW FAST I CAN MAKE CHANGES TO THE SITE. GUARANTEED, IT WILL NEVER BE THE SAME. BUT, UNFORTUNATELY I CAN'T AFFORD TO UPGRADE IN ORDER TO KEEP THE SITE THE SAME. BEAR WITH ME, AND I'LL TRY TO KEEP THE SITE GOING EVEN IF IT IS ON A SMALLER SCALE THAN I WOULD LIKE. THANK YOU FOR ALL YOUR VISITS AND KIND WORDS! CJ
MAY 1, 2002: Well, It's been a few months since I've given an update so I thought I'd do so now. Sad news. It looks like we will never see LFN the game! I have heard not a word and the game can no longer be found on the official infogrames site! If any one knows of the true fate of this game please let me know! And I have good news for Eugene Robert Glazer fans! I received an e-mail that let me know that Mindshadow Entertainment LLC is developing:
"'Area 23' is the Pentagon sanctioned program that houses the 'Psy Ops' Team - an elite strike team of paranormals.. individuals gifted with extraordinary powers of the mind. They go where our government cannot and will not venture.. Protecting national interests at home and abroad .. Dealing with the growing terrorist threats (paranormal and otherwise).. By Any Means Necessary..."
Hopefully this show will get the financial backing it needs and we will once again see Glazer on the small screen. Hey if you have the money... Anyway, check out Mindshadow's Area 23 site:The Official Area 23 Site for more information on the series and Mindshadow Entertainment LLC for more information on the company.
November 15, 2001: LFN on DVD? Check out the latest update at First Team, savelfn.org"
August 31, 2001: The New LFN game will be out soon and there is now a site that has a little info and some cool screenshots: Check out pcgames.com


July 24, 2001: Just found out about the Nikita Cruise 2002. It has just been announced by Florida Friends of La Femme Nikita that there will be a "La Femme Nikita Cruise" from Florida to Nassau with special guest Don Francks (Walter). Please go to Nikita Cruise 2002 for more information.


June 27, 2001: Just updated the look of my guestbook! What do you think?
June, 19, 2001: La Femme Nikita is re-airing on USA (at least Pacific/standard time) at 12 a.m. Sun & Mon-Thurs 1:00a.m.


May 4, 2001: Inside Section One: The Unofficial Viewer's Guide to La Femme Nikita, by Chris Heyn will be available on the web sometime (hopefully) in November. For more info pleaseclick here
Also, Peta Wilson will be co-owning a webstore that will sell items such as sunglasses and tennis shoes. Although, not yet "open", the flash intro is pretty good. This store will donate proceeds to her charity for disenfranchised youths.www.psycht.com


Okay, before the real La Femme Nikita Game is available, I have just created a simple FLASH 5 memory game that you might like to try.Click Here to test your memory


Mar. 23, 2001. La Femme Nikita, the television series may be over, but for those of us who love video games, we get a chance to actually become either Nikita or Michael this fall (2001) when Infogrames (makers of Unreal Tournament and Driver) releases La Femme Nikita. The action/adventure game is suppose to remain true to the series and immerse the player into the world of Section One and it's elimination of terroist groups. Now, if Infogrames can come up with game play that is along the lines of Metal Gear Solid, Syphon Filter, Medal of Honor, and Project IGI, gamers and La Femme Fans can truly be happy.


Peta Wilson fans will be happy to know that their favorite blonde will be starring in a new crime fighting drama for NBC. Stay tuned for more information as filming and naming has not yet begun.


It's really over: A Time For Every Purpose, Sunday, March 4, 2001 was the last original episode of La Femme Nikita to air. USA network will still air re-runs of La Femme Nikita Sunday-Thursday nights at 12 a.m. Also, see the close-up and ad from the March 4, 2001 issue of TV Guide: CLOSE-UP; AD


In the episode, Let No Man Put Asunder, one can find an interesting blooper. At the beginning of the show when Nikita is taking Walter's advice and takes a rest, Michael comes up on a panel. Nikita goes to it and instead of asking "Michael? She asks "Roy?". I watched it several times and cannot think of another logical interpretation.


If you like satirical fan fiction and like La Femme Nikita, you might want to read this.




Check out Roy Story from the Feb 17, issue of TV GUIDE
Visit the WB to read the transcript from the live chat on Jan. 11 with the creative team of La Femme Nikita, Joel Surnow and Robert Cochran.
SEASON 5 BEGAN SUNDAY, JANUARY 7 ON USA, 10 P.M. E/P TIME.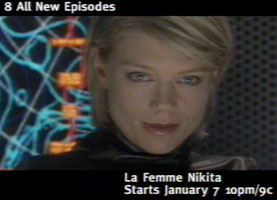 Cast to include(season 5) Peta Wilson(Nikita), Eugene Robert Glazer(Operations), Don Francks(Walter), and Cindy Dolenc(Kate Quinn). Special guest stars: Roy Dupuis(Michael), Carlo Rota(Mick Schtoppel/Mr. Jones), Stephan Shellan (0"Brian), Alberta Watson(Madeline), Matthew Ferguson(Jason), and Edward Woodward.
According to Warner Bros. site, Michael's freedom, given by Nikita in the season 4 finale, is the catylyst for the new season of Nikita. It was to make Section One a more humanistic organization, and to discover her true induction into Section that Nikita worked for Center as an internal investigator. She is called back into service, at the threat of "The Collective", a terrorist organization bent on destroying western civilization.

Be sure to check out the new look of Warner Bros.La Femme Nikita.site. Also take a look at "First Look" a short film




See article from ENTERTAINMENT WEEKLY Online on the fans success at reviving the popular show for "closure".
Be sure to check out the new La Femme Nikita area on the. USA Network's website.

Season Five Episodes:
"Deja Vu All Over Again"
"A Girl Who Wasn't There"
"In Through the Out Door"
"All the World's a Stage"
"The Man Behind the Curtain"
"The Evil that Men Do"
"Let no Man Put Asunder"
SERIES Finale: "A Time For Every Purpose"